A Tour of a Map that Tells Stories
This Virtual Tour includes the nine parts that form the complete Carta Marina. These are marked with letters A-I. The full map has three sections across the top, middle and bottom. The top row is A-C; the second D-F, the third G-I. The tour takes you to one section at a time, using Olaus Magnus' own words to describe the contents found there. The Carta Marina depicts a visual history as well as the geography of Scandinavia in 1539.
To take the Virtual Tour, click on the section of your choice in the menu on the left.
To view each section in an enlarged form in a separate window, click it on the composite map below.

Under the Magnifying Glass: Olaus' Carta Marina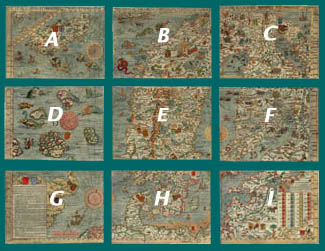 ©1999-2001 by the Regents of the University of Minnesota, Twin Cities. University Libraries. All rights reserved. Please credit the James Ford Bell Library, University of Minnesota if you copy or reproduce material from this page.
URL: http://bell.lib.umn.edu/index.html