The names on the western part of the globe are familiar from Ptolemy's maps.
In "Europa," for example, are Hispania, Gallia, Germania, and Italia.
"Affrica" has Libia, Mauritania and Ethiopia.
Familiar names on the globe in western Asia include Arabia and Armenia.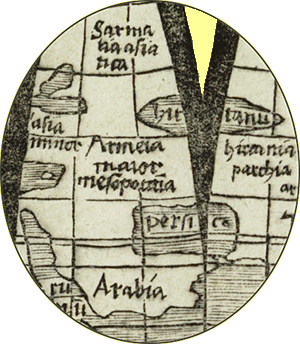 Straight south below the unnamed land the "Oceanus Occidental" appears for the first time on any printed map. The name. "Western Ocean" is not unusual. What name did Waldseemüller add that was special?
©1999-2001 by the Regents of the University of Minnesota, Twin Cities. University Libraries. All rights reserved. Please credit the James Ford Bell Library, University of Minnesota if you copy or reproduce material from this page.
URL: http://www.bell.lib.umn.edu/index.html